"High quality standards and fair prices!''
With over 10 years experience as Electrician
"I seek to provide a long-term commitment to my clients with the opportunity to help people. I'm socially responsible and work hard as a professional, friendly and safe way"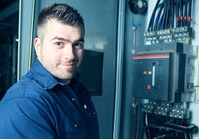 About Us
Fair paid employees, technical know-how and high quality standards its our identity.
Strong Partners - Strong Products
Every company is as good as its partners. That's why we work with the best. Contractors provide us with high quality solar modules and solar systems. This guarantees high quality and comprehensive manufacturer warranty.
And, we are environmentalists ...
... business ecologists out of passion. We believe that economic work and environmental protection can and should go hand in hand. That's why we are 150% behind what we do.
Each installed solar panel is a small step towards a better future. That is important to us personally. That is why we would like to take as many steps as possible in the right direction with you.